ELKHART LOCATION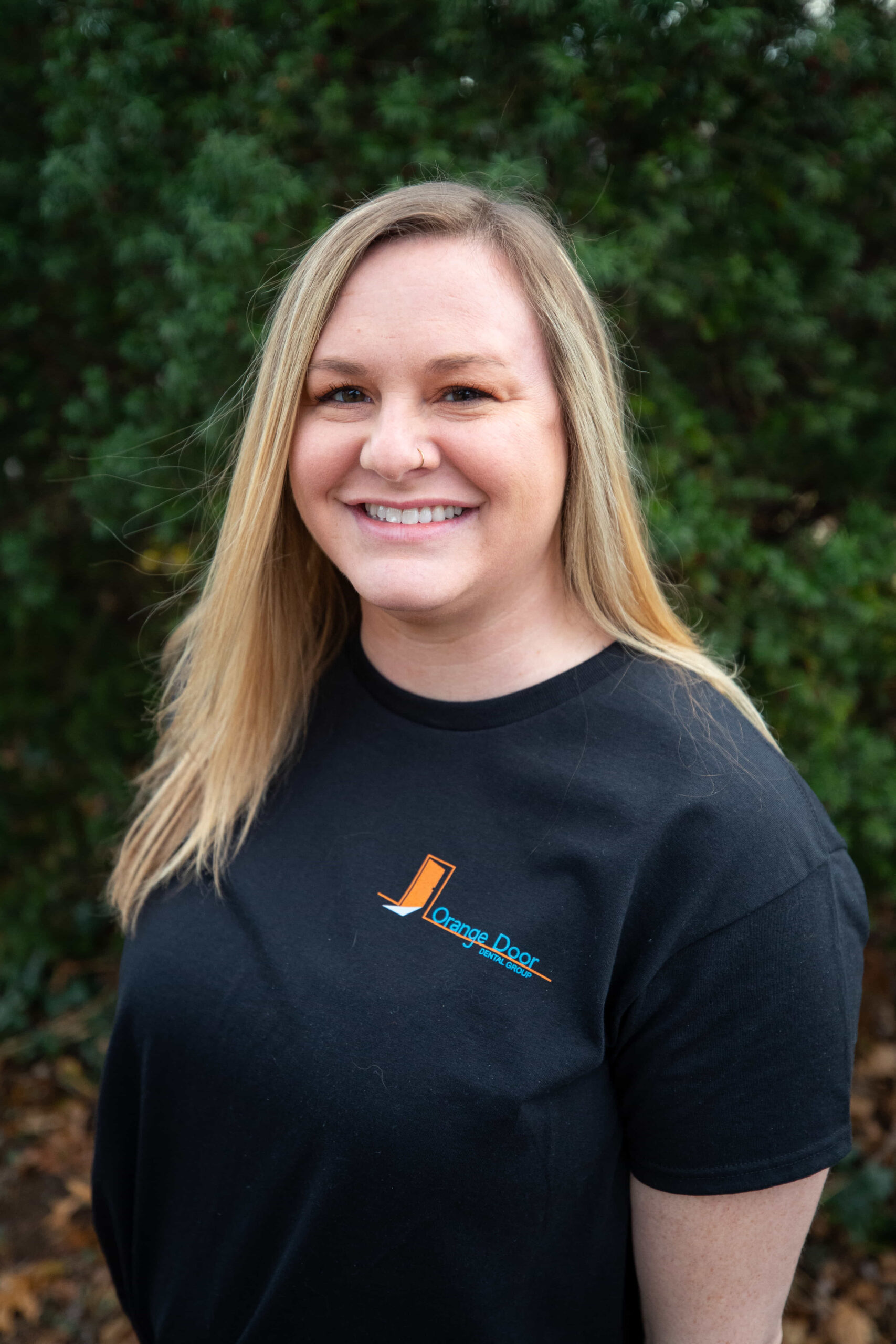 Amanda
Admin Assistant
Amanda has been doing great work as an office administrator since 2016. She certainly knows the meaning of teamwork, and helps our team run smoothly and efficiently. Her daughter, Harper, is the center of her universe! Her dog, Wrigley, is one of the highlights of her life. She loves to take him hiking or out to the beach. They both enjoy spending lots of quality time with close friends and family.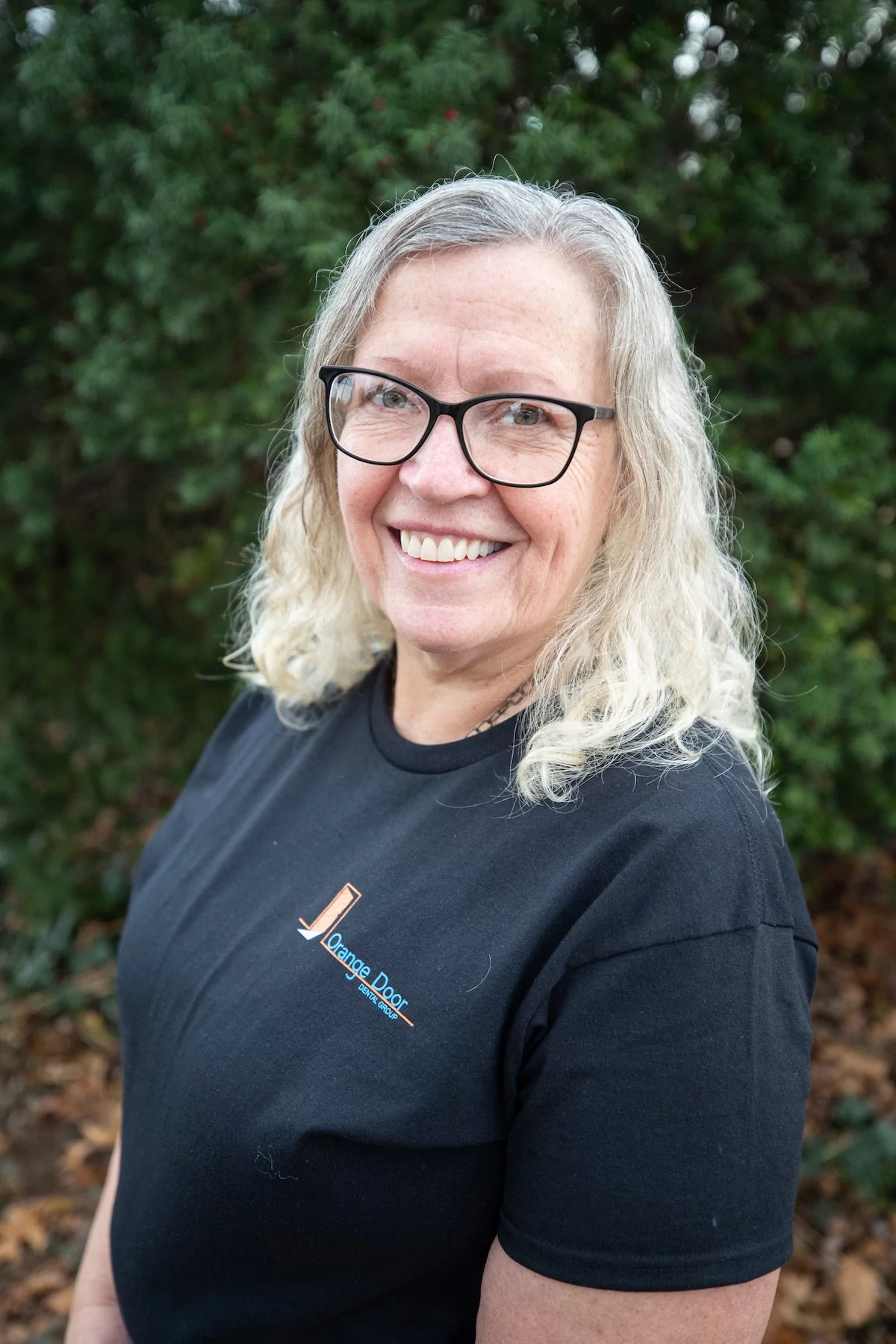 Connie
Patient Accounts Specialist
Connie works with our patient accounts. Most people don't realize that's a job we'd need in a dental office, but it's something that we couldn't do without. Insurance can be a nightmare, adding even more pressure to an already stressful situation. Connie is the wizard that helps people sort all of that out. With her experience and gentle manner, our patients are able to get the most out of their dental experience.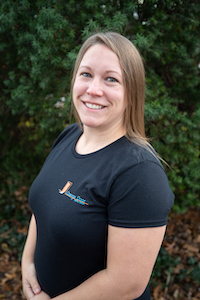 Grace
Director of Operations
Grace graduated from Dental Hygiene School in 2006. She has been with us since 2016. Over the last few years she has transitioned to the administrative side of dentistry. She's particularly good at explaining treatments and procedures in a comfortable way that helps nervous patients relax.
When she's not busy taking care of patients, she has her hands full raising her daughter and her son with her husband. Nothing is more important to Grace than family and friends. She loves playing card games together as well as spending summers at the lake cottage.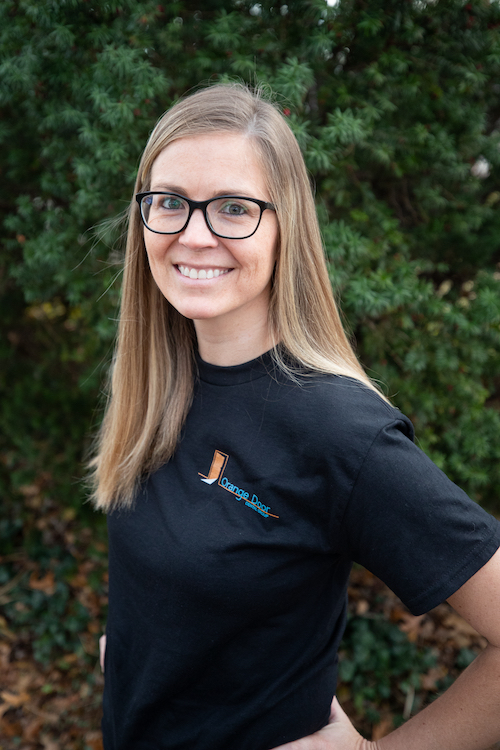 Kayla
Dental Hygienist
Kayla has multiple degrees and several years of experience as a dental hygienist. She graduated from Kellogg Community College with her dental hygiene degree in 2010 and earned her bachelor's in interdisciplinary health from Western Michigan University. Kayla has been working for us since 2011 doing not only hygiene work, but assisting at the front desk, and filling in wherever there is a need.
Kayla loves spending time at the lake, or simply relaxing for the day with her husband, Sergio, and their daughter, Mia, and son, Dominick. She also enjoys binge watching Netflix and shopping (wandering aimlessly by herself at Target).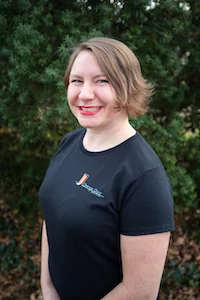 Jackie
Dental Hygienist / Orofacial Myofunctional Therapist
Jackie earned her Bachelor's degree in Science of Dental Hygiene from IUSB in 2014. She worked as a substitute hygienist at Orange Door Dental from 2014-2019, then became an official part-time employee, and became full-time in June 2020.
Jackie is married and the proud parent of many fur babies – one dog and now five cats (her husband is turning her into the crazy cat lady). She loves hiking, exploring national parks, traveling, craft beer, gardening, cooking new dishes, always learning, playing board games, and spending time with her nieces.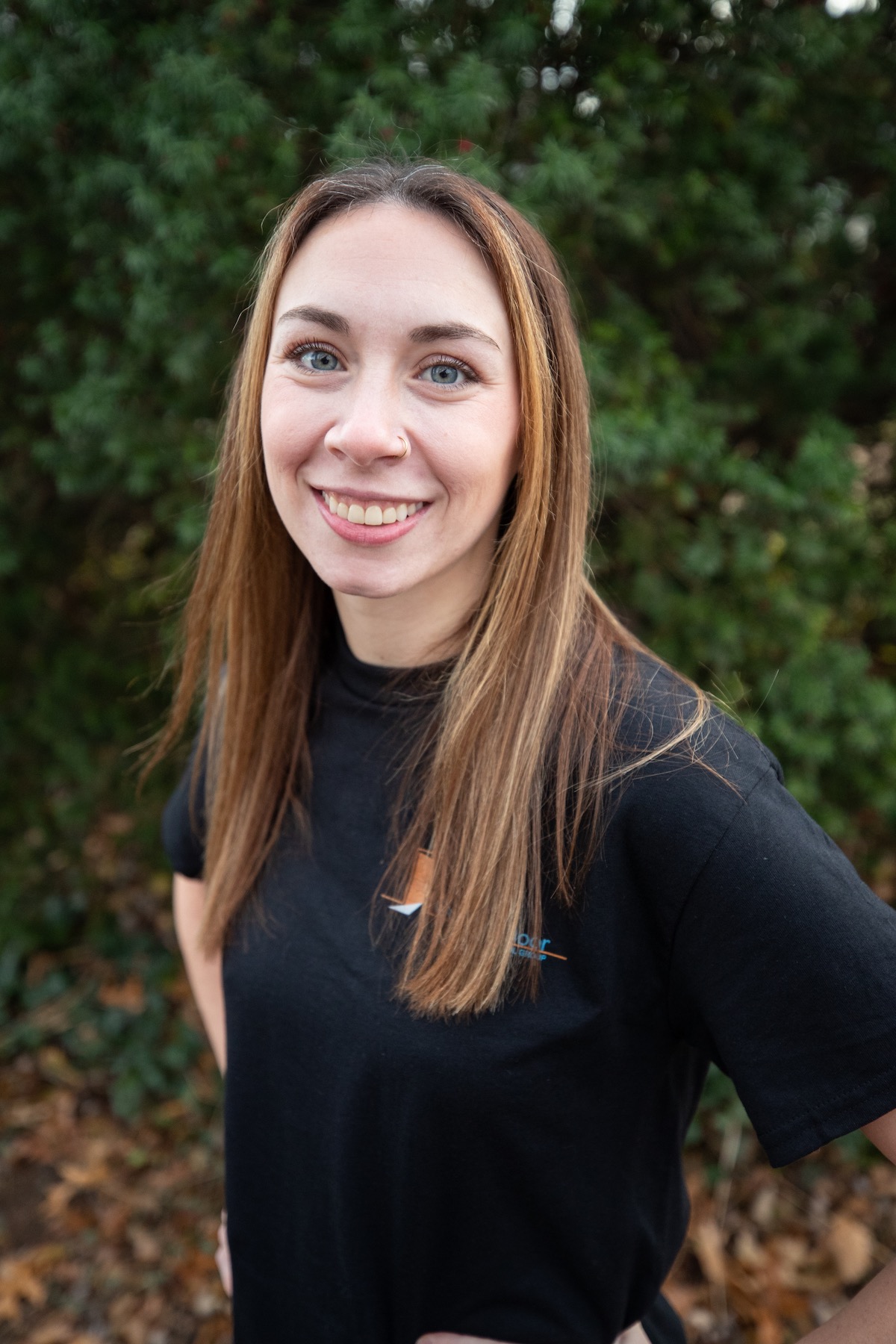 Megan
Expanded Functions Dental Assistant
Megan joined our team in 2010 . In 2011, she certified in coronal polishing and fluoride application. In 2012 she completed her Expanded Function Dental Auxiliary training. On top of all that, she's CPR certified. We're lucky to have her on our staff.
Megan and her husband, Tyler, enjoy going places together. They especially love to visit breweries. In their spare time, they wrangle three dogs: Finch, Opie, and Burkley.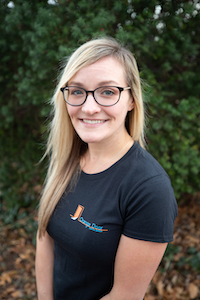 Rita
Clinic Assistant/Sterilization Tech
Rita was a hygienist at Orange Door Dental Group from 2010-2014. She then returned in 2021 to become our sterilization technician. She graduated in 2009 from IUSB's dental hygiene program with an Associate's degree in Dental Hygiene.
Rita has been married since 2010 and has two wonderful boys. She enjoys spending time with her family and friends. She also teaches violin and piano part time (she really enjoys music!)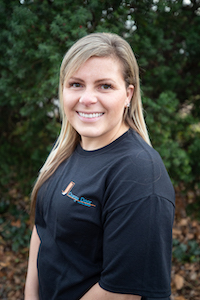 Savannah
EFDA/Admin Assistant
Savannah has been with Orange Door Dental Group since 2011. She completed her Expanded Functions Dental Auxiliary training (EFDA) in Indiana, which means that she has acquired the additional schooling and training to obtain the skills and licensure to perform additional procedures, such as placing fillings and sealants, and applying fluoride treatments.
Savannah was married last year, has three children, and one dog named Duke.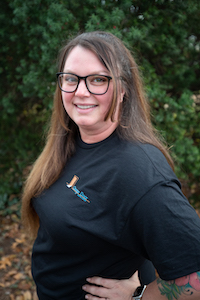 Sherry
Expanded Functions Dental Assistant
Sherry is one of our dental assistants with expanded function certification. She does great work, and has been with us since 2013. She loves to go on long hikes, where she can really appreciate the wonder of nature. Sherry also loves to relax with her family.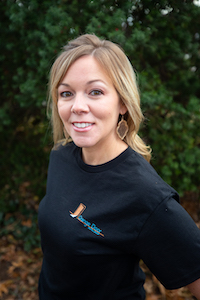 Tanya
Dental Hygienist
Tanya is a licensed dental hygienist, having earned her Bachelor of Science in Dental Hygiene. She is proud to have been a hygienist for Orange Door Dental Group since 2007.
She and her husband have been blessed with three beautiful children – two girls and one boy. Their youngest daughter has disabilities and keeps her very busy. But when she has spare time, she enjoys crafting, refinishing furniture, taking long walks, swimming a lot, and spending family time outdoors during the summer months.
WARSAW LOCATION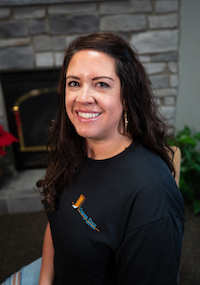 Amanda Jo
Expanded Functions Dental Assistant
Amanda is one of our Expanded Function Dental Assistants (EFDA) here at the practice. For the time that she's been with us, her expanded training has been invaluable. She's a team player through and through. Our practice strives to work together efficiently for the benefit of both our patients and our staff, and Amanda's contribution to that unity shines brightly.
Outside of work, Amanda has two young sons, ages ten and five. She is an avid hiker, and loves to relax by either reading or enjoying the great outdoors—sometimes both at the same time!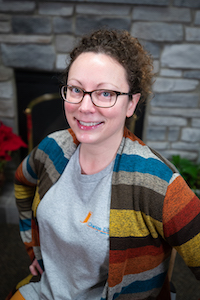 Amber
Admin Assistant
After graduating high school, Amber attended theological college where she studied Psychology and International Studies. She is married and has two wonderful sons, all of whom she is very close to and with whom she enjoys spending most of her time. Amber is involved with her church and loves traveling and going to festivals.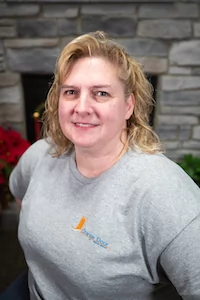 Angie
Expanded Functions Dental Assistant
Angie received her Associates in Applied Science, with a focus in Dental Assisting, from Ivy Tech Community College South Bend-Elkhart. She is married to an amazing husband, Daniel, and they have five fantastic daughters. Angie is a very proud grandma and loves spending time with her grandkids. She also has four cats and enjoys putting puzzles together.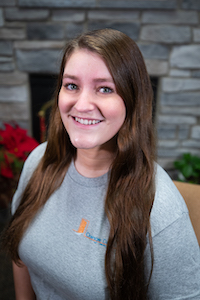 Heather
Expanded Functions Dental Assistant
Heather studied dental assisting at Legacy Dental in Fort Wayne. She comes from a big family with seven siblings, who have all helped shape the person she is today. She has three dogs – Charlie, Gracie, and Mabel. Heather enjoys going to concerts, collecting records, listening to music from the '70s, and spending time with her friends and family.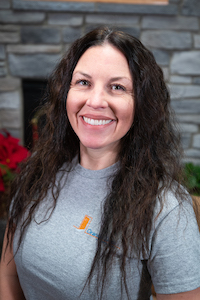 Heidi
Dental Hygienist
Heidi has been serving our community as a dental hygienist for over 20 years and is the Lead Hygienist at Orange Door Dental Group. She graduated at the top of her class at Indiana University–Purdue University Fort Wayne in 2001. She always strives to provide excellent, personable service. Heidi enjoys providing dental education while getting to know all of her patients.
In her spare time, Heidi enjoys spending time with her family. She enjoys gardening, walking the trails, trying new recipes, and cheering on her kids at their sports games and extracurricular activities.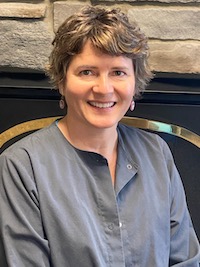 Liz
Dental Hygienist
Liz has been a dental hygienist with us since 2011! Her cheerful attitude and professional experience make the workplace fun and uplifting for everyone. One of her goals as a hygienist is to make each patient's experience a positive one.
The hard work never stops for Liz. When she gets home, she's got two teenagers—Kate and John—to keep her plenty busy. With her family, she enjoys walking, cross-country skiing, and getting up to lighthearted shenanigans.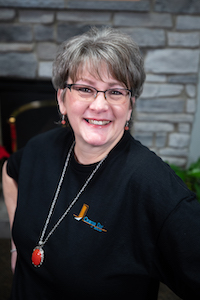 Pat
Patient Accounts Specialist
Pat brings over thirty-seven years of dental experience to our practice. She goes above and beyond, both in helping the office to run smoothly and in sincerely treating every person who comes through the door like part of the family.
Our dental family runs as a great team, thanks to Pat and her upbeat attitude. Her priorities are respect, equal treatment, and greeting every person with a smile.
Pat brings those values home to her family as well. She has been married for over thirty-five years, and has three sons and three grandsons.