We provide dental crowns or bridges based on your specific need. Dental crowns can be used to help protect badly damaged teeth or teeth that have exposed nerves due to root canal therapy. Dental bridges are often used to provide a cosmetic solution to missing teeth, but they are also used to protect the gum tissue and keep the jaw healthy.
Dental Crowns
Dental crowns at our Warsaw office are designed to provide protection and to blend in with your natural smile. Dental crowns are used for a variety of reasons:
Large Cavities: When a cavity gets too big, the structure of the tooth may become damaged. Once we remove any plaque, a dental crown can support the buildup and protect your tooth.
Root Canal Therapy: A tooth that has gone through a root canal may have roots that are exposed and become susceptible to damage. A dental crown can cover the tooth and protect the root.
Weakened Teeth: If your tooth has been weakened by injury, malnutrition, or other causes, a dental crown acts as an extra tooth layer and stabilizes the tooth. This can help you keep your natural teeth for longer.
Broken Tooth: A broken tooth isn't fun, but we can patch it right up with a shiny white dental crown that can give support and keep your teeth from sustaining further damage. This works best if your tooth still has enough stability to hold a crown.
Dental Implants: A dental implant consists of multiple parts, with one of them being a dental crown. The crown is the finishing touch, the part that people can see when you share your new smile.
Cosmetic Use: A dental crown can be a simple fix for a stained tooth or a tooth that is an odd shape or is misaligned. Your smile can also be evened out or a tooth can be whitened with a dental crown.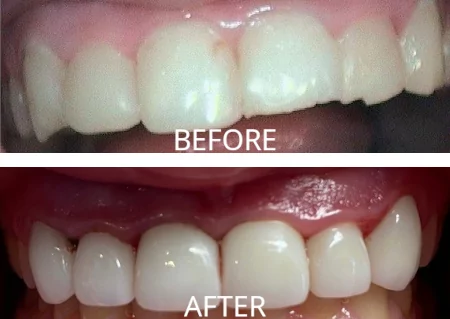 Crowns can be temporary or permanent. For example, a temporary crown might be installed while the permanent crown is being made. It is important to protect teeth that have cavity repairs because removing cavities could leave a tooth weaker.
Crowns are also used to protect teeth that have been damaged by trauma or by tooth decay. The crown can act as a barrier between the fragile tooth and hard foods or as a protection against the other teeth when the jaw is clenched tight and tooth grinding occurs.
How a Dental Crown Works
When you come in for treatment, we start by taking an impression of your bite. The impression allows the lab to create a dental crown that matches your bite and your natural smile. The dentist also takes time to match the color of the crown to the surrounding teeth.
In the meantime, we provide any treatment that you need, whether it's a root canal, or filing or building up your tooth. We can also give you a temporary crown to wear until your permanent one is ready.
Are Dental Crowns Permanent?
Our dental crowns are made from high-quality material designed to be permanently placed in your mouth. Once your crown is ready, the dentist checks the fit before bonding the crown to your tooth. We also check to see if any reshaping needs to be done before you leave the office.